Back in the spring, I excitedly signed up for a summer running camp for grown-ass women put on by woman-owned-and-run running wear company Oiselle. I anticipated several days of powerful conversations on the world-changing potential of women over long runs and hilly trails. I couldn't wait to meet professional (and aspiring professional) women athletes to talk shop and learn their secrets at form drills.
Then during the course of marathon training this summer, I developed a femoral stress fracture. Seven weeks out from the start of camp, I emailed the organizers to bow out and request a refund and got a hard NOPE.
I plead my case and attempted to tug on heartstrings, but the coordinator wouldn't budge, reminding me there's only so much running at run camp, and there would be plenty for me to do and learn beyond running.
I was disillusioned with the whole premise of the camp. I cursed and lost sleep. I thought of abandoning my monetary investment and skipping the damn thing.
But I decided to suck it up and go.
What should have been an empowering and transformational weekend for strong women to come together over running...actually was. And with way more "whooping" than I expected.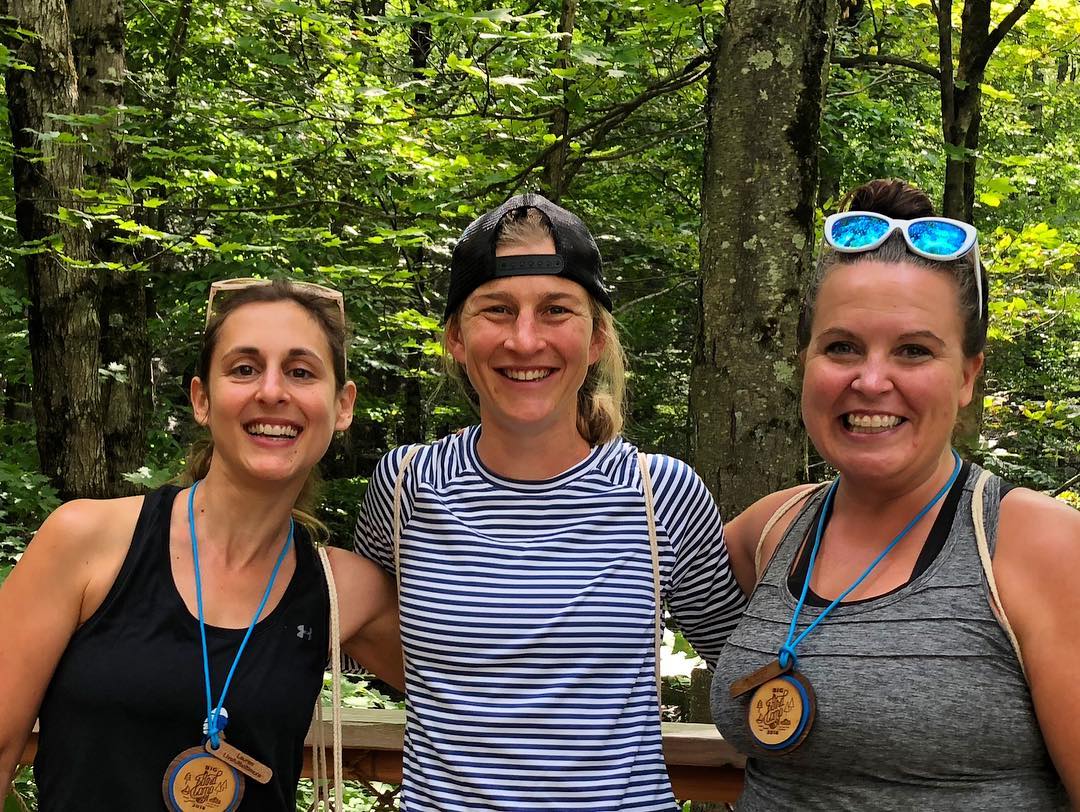 What a great reminder that when my initial reflex to an experience is NO, I might need to consider saying YES. In many ways, being injured and unable to run gave me a unique perspective that allowed me to appreciate and take in even more! I was a participant and an observer. Sure, I missed the long runs and the beautiful trails in favor of gym and pool time, but I was able to meet and talk rehab strategies with some of the most amazing also-injured women and was reminded that all the pros are injured at some point in their lives. While other women ran a track workout led by THE Kara Goucher and THE Allie Kieffer, I chatted with them about injury and asked my burning question of the year, how do you know when to push through pain and when it's too much (turns out we ALL wrestle with this one--running hard isn't supposed to be comfortable).
I flexed my brain in a writing workshop with the amazing runner, writer and big thinker Lauren Fleshman. I took more yoga in a weekend than I have in the last six months. I dug into some ugly truths about women and body image and was reminded every second spent worrying about whether my stomach rolls over the waistband of my jeans is a second NOT spent making the world a better place (thank you Dr. Melody Moore).
BONUS: Without phone service, I only peeped in on social media a couple minutes over the long weekend, and the world didn't end.
And I met beautiful, talented and strong woman after woman after woman, and established real and meaningful friendships.
I even suspect the joy of the weekend sped the healing of my fractured femur--no joke.
Thanks to Oiselle for building a community of strong women and putting on this camp, and to the wise organizer Steph who straight up refused me a refund (she says she has a heart of coal, but I'm not buying that). I'm recharged with some great new tools in my coaching arsenal, and can't wait to apply newly learned skills and drills once I'm cleared to run!